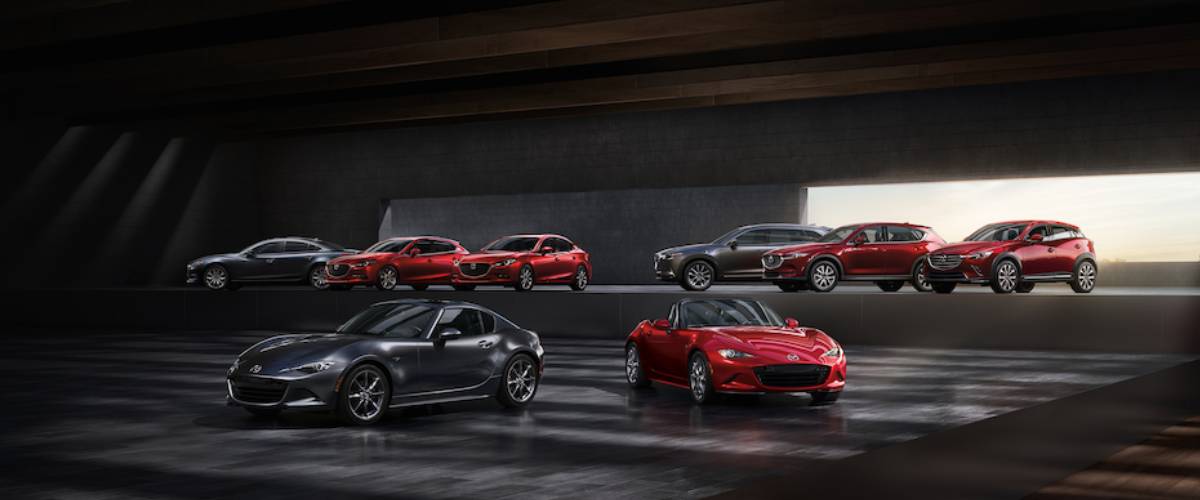 Helping You Make the Tough Decision Between Leasing and Buying at Davis Gainesville Mazda Finance Center
Over the past several years, leasing has continued to grow as a popular auto financing option for Ocala, FL customers.  Many of them have fallen in love with the idea of driving a new Mazda, like the Mazda CX-5 or the Mazda6, at a low monthly payment.  Despite this increase in popularity, there are still many Palatka, FL customers who prefer to get an auto loan for their new Mazda car or SUV.  When it comes down to it, there are many advantages to both options.  The finance experts at Davis Gainesville Mazda, located at 2700 N Main Street in Gainesville, FL, are a great resource to help you figure out which of these choices is best for your lifestyle and budget.  If you have any questions about buying or leasing, please feel free to contact us.  You can also use our driving directions to find us if you want to come down for a visit and have never been here.
An Experienced Finance Team Helping You Weigh Your Options
Whether you decide to get an auto loan or a car lease as your car financing option, our finance professionals will be able to help.  They have years of experience in the automotive financing industry and will use the benefits of the knowledge accumulated during that time to assist you in deciding between leasing and purchasing your new Mazda.  Our finance team also have an in-depth knowledge of the current Mazda purchasing and leasing promotions and can discuss those with you, since they know a very attractive special may influence your decision one way or the other.  The finance staff will also make sure that you have all your questions answered so you can proceed with the confidence in knowing that you are making an informed decision about your auto financing future.
The Advantages of Purchasing Your New Mazda
There are many Middleburg, FL drivers who love the idea of getting a car loan for their Mazda because of what happens when that loan is paid in full.  When it is paid in full, the Mazda will become complete property of the driver and they will have complete equity in the vehicle.  This means that they can use the equity in that Mazda towards a new one or sell it and pocket the money.  Another great advantage of buying your new Mazda is the fact that you won't need to be concerned about any mileage restrictions.  If you happen to get a different job with a longer commute or experience another change that requires you to drive more, you won't need to concern yourself with mileage.  The same thing can be said with damage fees. Customers who have the habit of getting dents and scratches in their ride won't have to worry about potential fees associated with damages if they purchase their vehicle.  Another aspect of purchasing some people like is that when you pay off your auto loan, you no longer have a car payment.
The Advantages of Leasing Your New Mazda
Leasing your new Mazda car or SUV can be a great way to keep your overall cost of car ownership lower.  Lake City, FL drivers who are interested in a car lease may have heard that it is an excellent way to get a lower monthly payment than you could get with an auto loan for the same vehicle with the same amount of money down.  Going with a lease agreement also ensures that you will have the opportunity to get into a new Mazda every two to four years, depending on the terms.  This means that you will have access to a new car or SUV with the latest technology, luxury, and safety features.  A car lease also allows drivers flexibility, as the end of a lease agreement gives customers the opportunity to lease another Mazda, buy the one they just leased, or do something entirely different.  Leasing tends to work better for individuals who drive 15,000 miles or fewer and don't have any interest in customizing their vehicle.  Another great thing about leasing is the fact that you won't have to worry about car repair bills as you will be covered under the manufacturer's warranty the entire time you have the vehicle.
Buying or Leasing Made Simple
The first step towards buying or leasing a new Mazda at Davis Gainesville Mazda, in Gainesville, FL, is to complete our online credit application.  Fill the form out today and one of our finance professionals will contact you to discuss your purchasing and leasing options.